Kwame Taylor-Hayford is Co-Founder of Kin, a company using creativity, innovation and purpose to unleash business and culture as forces for good.
Prior to launching Kin, Kwame was Managing Director of Brand at Chobani where his team was named 2019 In-House Agency of the Year by Advertising Age. Earlier in his career, Kwame was a Partner at Sid Lee and led teams at Anomaly and Saatchi & Saatchi in New York.
Kwame is on Adage's 40 Under 40 list in 2020. He is a founding member of the NYC Mayor's Creative Council, and an inductee into the American Advertising Federation's 2019 Hall of Achievement. He is also a Co-Founder at SATURDAY MORNING, a not-for-profit organization that brings awareness to and shifts perceptions on racial bias and injustice.
HOW MAILCHIMP AND KIN PROVED THAT BIG CHANGE STARTS SMALL
I'm excited to share the story of co-founding Kin with my incredible partner Sophie Ozoux and how over the last few years we've built a new breed of creative company. One that fully reflects us, our backgrounds, our experiences and our values. One where creative people of diverse skill sets, backgrounds and identities can thrive and do their best work. And one where our passion for creativity, innovation and purpose has led to collaborations with great brands including Mailchimp, Netflix, Away and Fenty.
After over two decades working at leading agencies including Sid Lee, Anomaly, TBWA\Media Arts Lab, BETC and Saatchi & Saatchi, as well as brand side at Chobani, we decided to leave the safety of our jobs and try something entrepreneurial. After a nice dinner and just the right amount of sake I was able to convince Sophie to take the leap with me to start a dynamic new creative company. While we were clear on our vision, the clients we dreamed of partnering with and the kind of work we wanted to make, arriving on a name wasn't easy. With the help of a few good friends, we chose Kin, inspired by the idea of kinship. It perfectly described us, how we work with each other, with talent, with our clients and partners. We treat everyone like family, with honesty, trust and respect. That creates the context for a fun working dynamic, great output and even strong friendships.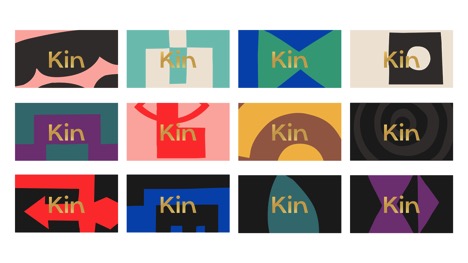 Early in the life of the company we were introduced to Lain Shakespeare, Senior Director of Corporate Citizenship at Mailchimp. They're an incredible brand with a strong purpose at their core. Founded by Ben and Dan, whose parents were small business owners, they knew first hand the challenges of starting, running and growing a small business and wanted to make that easier. Mailchimp's mission to empower the underdog extends beyond small business to include small world changers, individuals and organizations making positive changes in their local communities. They've built a unique approach to corporate social responsibility over the last 7 years, giving non-restricted funds to small, innovative, local organizations. These organizations know their communities the best and are able to drive significant impact when they're allowed to operate freely.
Mailchimp has championed this adaptable model for corporate citizenship, investing over $12 million dollars into 200 different organizations. This approach has generated measurable, positive results in Atlanta. Our hope with this campaign is to inspire other brands and organizations to embrace unrestricted giving in order to drive more sustainable, long term change within their communities. Let's change how the changers change the world.