Praful is one of the most awarded healthcare creatives and strategists in the world currently, helping Medulla, the agency he'd founded in 2008 become the #1 Healthcare Advertising Agency at Cannes in 2016 and the only agency in the top three for three years in a row from 2015-17.
APPLYING CREATIVITY TO PROBLEMS BIG AND SMALL
The human brain is designed to focus on problems. It's an evolutionary mechanism deep-wired into each of us that helps turn on all parts of the brain when a problem is at hand. Even now that the problem has shifted from dodging man-eating tigers to someone coughing next to you in a meeting you're attending, the human brain switches on. And when the brain is switched on, it is a great time to ensure your brand's message is registered in the consumer's mind.
Is there a problem that the brand can solve for the consumer? At Medulla, we often start with that question because "How may I help you?" is the best way to start a conversation with any stranger. It ensures we start with the consumer's problem rather than thrust our solution down their throat. And so connect better with the consumer.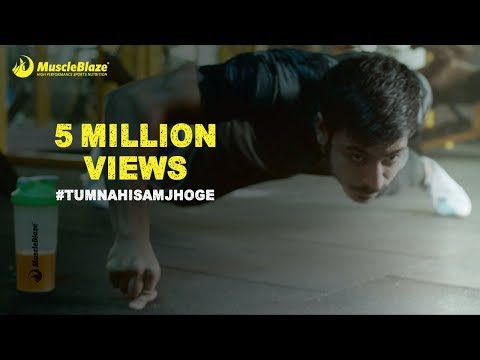 From my days as a client working with the leading creatives from the best agencies, I've learned that nothing inspires creativity like a good problem to solve. For example, for one of the leading brands of muscle-building protein in the Indian market, experienced gymmers were key category influencers that were de-recommending the product, mostly without having used it. However, instead of trying to solve the brand's problem directly, we understood the gymmer's problem – their family and friends assumed they gymmed to look good, so ridiculed their gymming routine, whereas gymmers did so to feel good. Thus, inspiring our campaign
'Tum Nahin Samjhoge'
or 'You Won't Understand' that became a cult classic, inspiring 10,000+ takeoff videos from consumers. For a brand of BP monitors that was strongly recommended by doctors, we realised that hypertensive Indian consumers tended to get their BP checked when they visited the doctor and relied on that accuracy to validate their own regular readings. So the pandemic created a problem for the consumer and a significant opportunity for our more accurate and doctor-recommended device, inspiring a digital-first campaign that grew online sales over four times within the first month.
To address the most frequent challenge raised by advertising folks on this topic, this doesn't mean that you have to harp on the problem and get drowned in negativity. It just means you have to demonstrate that you understand the consumer's problem and help solve it using creativity. When the world's leading pharma brand for ADHD launched in India several years after it's competition, diagnosis of ADHD was the biggest challenge with less than 1 in 10 cases being diagnosed. However, talking about symptoms of ADHD was akin to scare-mongering and would shut parents off. We realised that even fairy-tale characters had symptoms of ADHD. So we created ADHD symptom stamps and placed these marked books as fairy-tale libraries in pediatrician waiting rooms. On another brand that had reported safety concerns in the market, we decided to flip this with the responsibility pledge campaign, creating individual pledges that were signed by thousands of doctors, medical reps, pharmacists and patients.
As this hopefully gets you started with solving problems, here is an interesting perspective from healthcare. While humanity has discovered cures for most diseases in the last century, increasing lifespan by close to three decades, a large proportion of the global population, still doesn't have access to most treatments. And this lack of access is not just due to cost but lack of education, awareness, and sometimes even simple human inertia. In other words, problems that are best solved by advertising, communication and marketing teams. Here's to more problems being solved by the industry.