Marketing & Public Relations:
Patricia Censoprano
Senior Vice President -
Marketing & PR
patricia@liaawards.com
Telephone: +1 917 287 2824
Crossing Ari Weiss's Ocean with Simone Nobili
02 February 2021
---
CROSSING ARI WEISS'S OCEAN




WITH SIMONE NOBILI
Simone Nobili and LIA hope you enjoy this amazing Transatlantic journey as we cross the seas with some of the legends of our industry.
The journey. Across oceans. Seven questions. Seven answers.
All to help people in creative industries navigate their careers.
Your Captain? Simone Nobili. Today's onboard guest? Ari Weiss.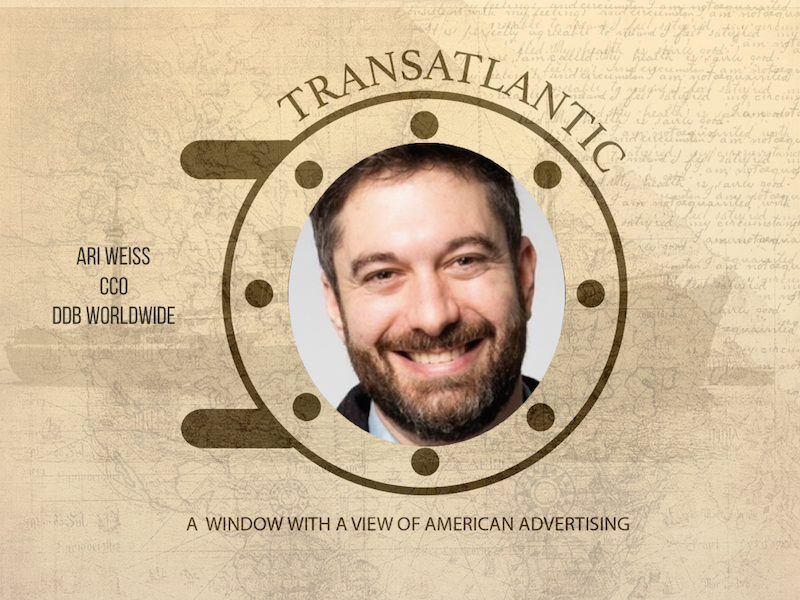 From sitting in the personal office of William Bernbach to the 40-70 rule of Colin Powell.
Ari Weiss, Global Chief Creative Officer at DDB Worldwide, is an ocean of brilliant rationality and pure instinct,
the perfect mix for a Captain who's in charge of the 200 DDB vessels sailing around the world.

Each week, Simone Nobili interviews some of the most creative people in our industry and through seven questions
like the Seven Seas he crosses their ocean.
Simone believes that each of us is an ocean of erratic thoughts, wild feelings and uncommon stories.
The goal is to give young creatives back in Europe a window into American advertising.
STAY ON THE WATER WITH US, SUBSCRIBE TO THE TRANSATLANTIC CHANNEL