CROSSING BOZOMA SAINT JOHN'S OCEAN
WITH SIMONE NOBILI
Simone Nobili and LIA hope you enjoy this amazing Transatlantic journey
as we cross the seas with some of the legends of our industry.
The journey. Across oceans. Seven questions. Seven answers.
All to help people in creative industries navigate their careers.
Your Captain? Simone Nobili. Today's onboard guest? Bozoma Saint John.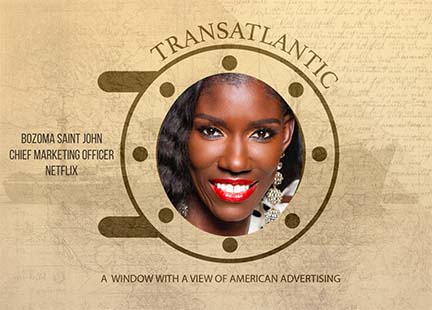 From walking into Spike Lee's office at the dawn of her career with a bold stride, to rocking the advertising industry with an innate propensity to "badass" leadership. The ocean of Bozoma Saint John, CMO at Netflix, borders the lands of Brilliancy and Greatness. Her powerful waves reach new heights every day and her razor-sharp focus can power through any storm.
Each week, Simone Nobili interviews some of the most creative people in our industry and through seven questions
like the Seven Seas he crosses their ocean.

Simone believes that each of us is an ocean of erratic thoughts, wild feelings and uncommon stories.
The goal is to give young creatives back in Europe a window into American advertising.