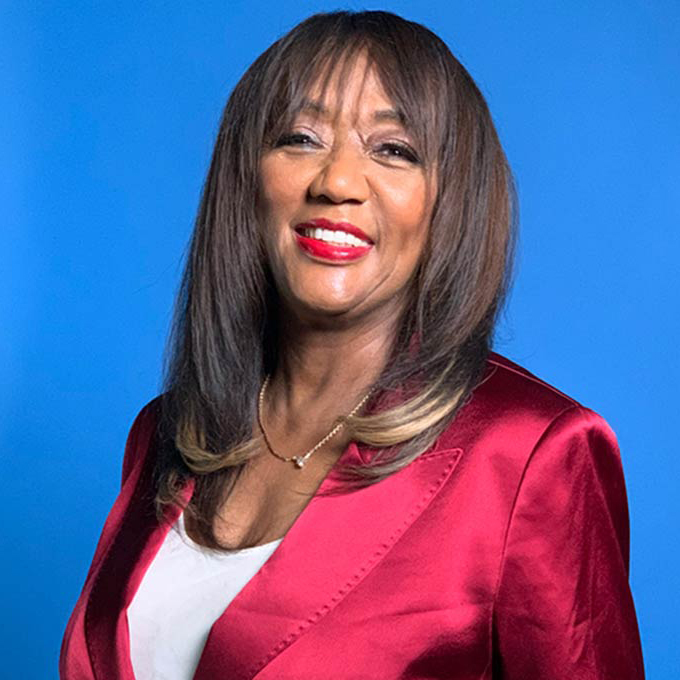 CAROL H. WILLIAMS
President, CEO & Chief Creative Officer
Carol H. Williams Advertising
Carol H. Williams founded Carol H. Williams Advertising (CHWA) more than two decades ago after recognizing the need for advertising that speaks to the sophisticated and influential African American and urban markets.
Started in 1986 in Carol's living room, CHWA now has offices in Oakland and Chicago, and a satellite office in New York. A highly diverse and skilled staff produces award-winning advertising and marketing campaigns for Fortune 500 companies—including General Motors (Cadillac), General Mills, Kraft, Gilead Sciences, HP, Nationwide Insurance, Procter & Gamble, the U.S. Army, The Walt Disney Company, Marriott, and others.
Before establishing CHWA, Carol already had more than a decade of pioneering advertising work behind her. Top marketing executives recognized her creative spirit in college and competed to hire her. Carol started her career at Leo Burnett Company in Chicago and quickly earned a position as the first female and first African American Creative Director and Vice President. After 13 years at Leo Burnett, she served two years as Senior Vice President, Creative Director at Foote, Cone & Belding in San Francisco.
Early in her career, Carol created some of the most memorable advertising campaigns in history
Carol has received numerous professional honors and community awards during her career. She also is passionate about community service. She has used her talent and resources to help dozens of philanthropic endeavors. A native of Chicago, Carol has a daughter, Carol Hood, a creative director, author and writing graduate fellow University of London.
Belief in yourself is a tremendous superpower.
Jim Stengel, the former Global Marketing Officer of the largest marketing company in the world, Procter & Gamble (P&G) described Carol H. Williams at her Advertising Hall of Fame induction as an "extraordinary creative force".
Don Hilton, of the US Army Cadet Command states "Carol H. Williams provided the client with the brightest out-of-the box thinking" that caused a continued relationship between the US Army and Carol H. Williams to date.
Carol and her industry work are consistently framed as 'genius'. One of her former peers asked, "where did she come from?" Carol grew up on the Southside of Chicago. She attended Grant Memorial Church, faithfully, 3-4 times a week. Everything from Sunday school to community service were part of her upbringing. She was described as an incredibly quiet young woman, more of an observer than engager. Christian values cultivated Carol's entire lifestyle, beliefs and outward expressions toward all who meet her. These core values are the platform of which she has overcome being a black female in America to being the top of her game. With each achievement and door opened, Carol shares and reinforces a strong set of values, many of them passed down from her parents. Values that she passes on to the younger professionals whom she mentors or takes under her wing. Carol believes success is a continued struggle and as Winston Churchill stated, "Success is not final, failure is not fatal: it is the courage to continue that counts."
Carol's career began as a Copywriter at Leo Burnett and went on to become the first Female, African-American Creative Director and Vice President which, at that time, was the largest advertising agency in the world. She began honing her skills as a strategic creative who could bring insight to life through iconic lines and images for well-known brands. While at Burnett, she developed many memorable campaigns; Pillsbury (Pillsbury Biscuits, Pillsbury Frosting), Kleenex New Freedom, her breakthrough campaign the timeless Secret Antiperspirant "Strong Enough for a Man but Made for a Woman" and countless others.
Carol was always considered as being able to hit the sweet spot with her development of strategically insightful creative, which motivates consumers to action and consistently generated results. It has been said that her work and narratives tapped into the hearts and minds of consumers, making that strategic connection between their needs, desires, products, and/or services in a meaningful way. Carol's motto, "Whose Eyes are You Looking Through when You View the World?" means exactly what it says. Carol believes to win with consumers you must understand who they are and their values, from their perspective. Carol consistently says she succeeds with pure empathy.
Although Carol H. Williams was inducted in the Advertising Hall of Fame, in 2017, received the prestigious AdAge Vanguard Award, the list goes on; do people know that in the late 70s she won Chicago's Advertising Person of the Year and was awarded Second Cities Filmmaker Award of the Year? Carol has received numerous professional honors and community awards during her career. Passionate about community service, she has used her talent and resources to help dozens of philanthropic endeavors, including the Rainbow/PUSH Coalition, the Congressional Black Caucus, NAACP, U.S. Dream Academy, and the National Newspaper Publishers Association, just to name a few.
When speaking with Carol you will notice she is a beautiful fashionista but always maintains her humble demeanor. She shares "you must have reasonable confidence in your own power, and if you do not, you cannot be successful and happy. Confidence infuses self-realization, self-realization actualizes achievement; believe in your abilities but leave your ego by the door."
For 35 years, now the Owner, President, CEO and Chief Creative Officer at her own agency—the Carol H. Williams Agency (CHWA)— Carol's mindset is what catapulted CHWA into an award-winning agency. Along with its diverse staff, CHWA produces captivating marketing campaigns for Fortune 500 companies across the United States, including General Motors, the U.S. Army, Union Bank, Commonwealth Edison, PG&E, YMCA, The Coca-Cola Company, Pfizer, Kraft, General Mills, Diageo, California Department of Health Services, Bank of America, Washington Mutual, Nationwide Insurance, Gilead Sciences, Google, HP, Procter & Gamble, The Walt Disney Company, Allstate Insurance, and a host of others.
"Belief in yourself is a tremendous superpower."
Carol H. Williams