Brett is no stranger to award shows, having been Jury President and Judge for top organisations including the London International Awards, One Show, Cannes Lions Health, Eurobest and the Clio Awards. He welcomes their bar-raising impact on the industry and the ambition and support they offer young creatives.
His own career started in consumer advertising, before he entered the world of healthcare at McCann Health. Here he went on to win multiple awards at a UK and global level, including the PMs, IPA Best of Health, the Global Marketing Awards and The RX Club, where McCann became the most-awarded agency in his final year. But Brett's proudest professional achievement is founding VCCP Health and leading the small London agency to become one of the most awarded healthcare agencies in Europe. Whether for patients, professionals or the public, his approach combines a love of art direction with pithy copy, strategic insights and a knack for challenging the status quo.
Great lines aren't just for advertising though – Brett runs his own fly-fishing business and co-manages fly-fishing magazine FlyCulture. His passion for fishing is evident in the names of his other great loves, his children Finn and Brook. When he's not working, you'll find Brett with these two and wife Holly, enjoying English country life.
Tell my careers advisor I'm selling drugs
When I think back to how I ended up being in the industry I often wonder whether it was down to determination, being stubborn or just plain luck.
Growing up in the Midlands of England, it's fair to say my local school wasn't a great one. With a combination of oversized classes, and being easily distracted by friends and girls, I was on the verge of leaving school with very bad results. I remember having a conversation with a particular teacher about wanting to go into further education and obtaining a degree, something my mother was keen for me to do as no member of our family had ever achieved that. I wanted to make her proud. I remember him laughing at me and telling me I had no chance. I remember another conversation with our careers advisor. After filling in my multiple choice forms, and explaining how I liked art and design and would love to go into that field, he explained it was too competitive and maybe I should lower my expectations…a lot.
Seven years later, after resitting my exams in further education, I got my degree from Central St. Martins. Proud mum alert. During that final year of my degree I spent a long time at Saatchi & Saatchi in their placement playpen, along with another half a dozen teams, trying to crack the latest briefs for Silk Cut cigarettes and British Airways, desperately hoping to land a job.
I never did land the job at Saatchi's, but was offered a job down the road at McCann's. JWT and Havas followed over the next 10 years. Oh how I longed to bump into that teacher and our careers adviser and tell them I'd done it.
During that time I was lucky enough to work on an amazing client list, including Coca- Cola, Jaguar, Rolex and Cadbury's. Yet it wasn't quite the job I imagined it to be. I just never felt at home.
So I started my search for something different – which is when I stumbled upon healthcare advertising. Could these life-saving products and disease awareness campaigns give me a better sense of job satisfaction? Could I leave behind the world of selling luxury watches, fancy cars and chocolate? Colleagues told me I shouldn't do it. But again, being told I couldn't do something seemed to spur me on.
15 years on and the work in the Health & Wellness category is incredible. On a year-to-year basis, we see life-changing work that really does make a difference. Did I ever expect the work to be at the standard it is now? Probably not, and maybe that's where the luck comes in. I'm proud to be a part of the specialist category that is Health & Wellness – more than ever now as we deal with the impact of COVID-19.
For me, a great example of the work I now get to make is 'Hairspray', a film for Teva Pharmaceuticals. Teva – the largest producers of generic medicine in Europe – have a website dedicated to supporting people who care for loved ones with cancer, dementia and other illnesses. They wanted our help in raising awareness of their brand and the support they offer.
Almost 1 in 2 people around the world will become a carer at some point. It can be draining, physically, emotionally and financially. Yet this is an unseen group, often vastly underappreciated for all they do.
When we spoke to carers, it became clear that what they do is not an act of obligation – it is an act of love. We wanted to shine a light on carers, not by showing the stress of the hard times, but by showing the love that's behind the sacrifices they make.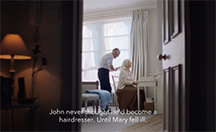 'Hairspray'
tells the story of an elderly man going the extra mile to help his wife feel like herself again, by learning how to do her hair the way she always used to do it before she was ill.
The film starts by building intrigue – why is an old man in a hairdressing college along with all the young hairdressers? We only get the emotional tug right at the end, when we see his wife's shaking hand, unable to hold her hairbrush. Gently, he takes it from her, now finally able to style it the way she always used to.
We all deal with issues of health. It can be sad, and scary, but it also brings us together – as recent times have shown. This project gave us an opportunity to take a human approach to a human subject. It's the kind of work that gives me the sense of job satisfaction I always craved. And yes, I have to admit; I hope the people who told me 'no you can't' happen to see it too.