Oliver Fuselier of Great Guns USA and Tanya LeSieur of MUH-TAY-ZIK/HOF-FER engage Creative LIAisons Mentees with their 'Ask Me Anything' Virtual Seminar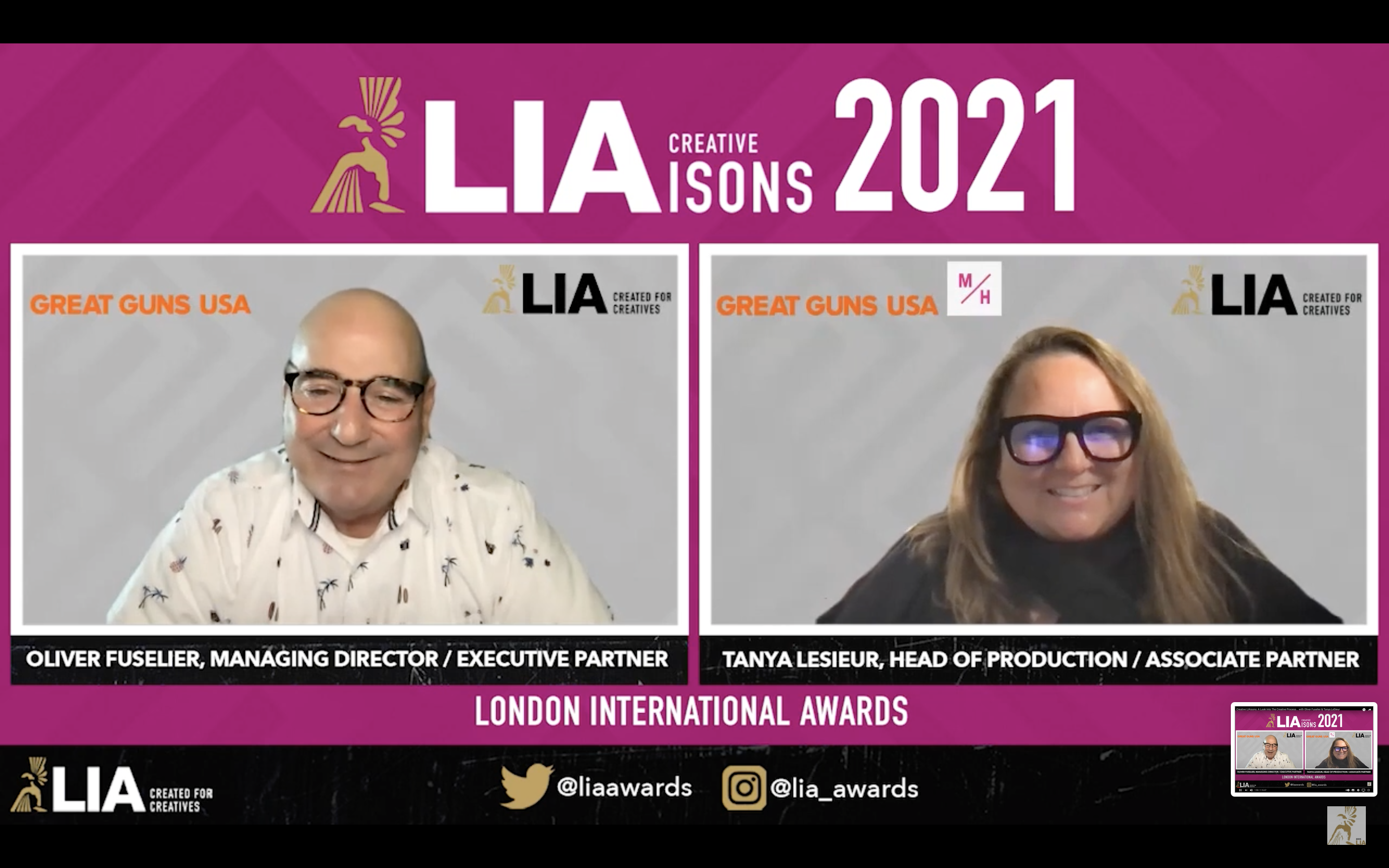 Oliver Fuselier, Managing Director/Executive Producer of Great Guns USA, partnering with Tanya LeSieur, Head of Production/Associate Partner of MUH-TAY-ZIK/HOF-FER, turned the virtual seminar on "Advertising: A Look Into the Creative Process and What Part Does Trust Play in the Big Picture" into a fluid, interactive session that allowed the audience to pose questions they have for the highly experienced pair. There were no filters to the questions, so the audience was at liberty to ask anything that would increase their learning.

Both Oliver Fuselier and Tanya LeSieur worked in concert to build on one another's answers. Perennial debates, such as "should an A-list director be pitted against young inexperienced directors?" and "what to look for in a director?", were discussed. This gave mentees plenty of opportunities to participate and even voice their own experiences in relation to working with production companies, creative expectations versus client expectations and choosing directors.

Barbara Levy, President of LIA, said: "Both Oliver and Tanya are so experienced in the field of production. They work in tandem so well. It was wonderful that they got off the virtual stage and into the virtual audience. This was a great way to build rapport with the audience as not all presentations align completely with what the audience expects to hear. This really makes what they say even more relatable, which is so important as they are dealing with the topic of trust."

The pair also highlighted the importance of doing a technical scout before a shoot as in this day and age it usually involves more than just producing a film. There are other digital assets to consider, so figuring out the final details of filming at the space is crucial. As Tanya LeSieur put it: "It is important. Even if you do it remotely, you want to be part of the team on the ground."

The session ended with good advice by both Tanya LeSieur and Oliver Fuselier.

Tanya LeSieur told the audience: "Part of trust is stumbling and failing. So find that maker that can be your partner in crime. Try to be courageous. Sometimes it's better to fail than not to try at all."

Oliver Fuselier echoed the same sentiment, adding: "Yes, go for it. Find directors that are doing creative work. And always communicate with your production house. Let us be part of the process."