Mathieu Lacrouts is the co-founder and CEO of Hurrah.group, the first communications group dedicated to esports and gaming. Lacrouts' extensive experience in digital planning, marketing and advertising, comprises strategy design for Netflix, Red Bull, Eurosport, Warner, Pathé and many others. Lacrouts' previous work at Darewin, Divine Agency and TBWA have given him key insights into the alternative ways large companies can connect with audiences, designing creative marketing programmes that are a cut above traditional packaged sponsorship deals.
Lacrouts has played Counter-Strike for 19 years, and has been a fan since 2006, when he attended his first tournament game. One day he wondered, 'why aren't any brands producing great creative for people like us?' That's when he and his business partner Angela recognised the opportunity and decided to launch Hurrah — the name was inspired by the intense emotion they as fans felt when watching a game.
MIX ESPORTS WITH A PASSION FOR ADVERTISING
In the darkness of the 2020 pandemic, people turned to gaming and esports for some much-needed relief, fun and a sense of community. At Hurrah, we learned a lot, adapted a lot and grew a lot. From an agency into a group and as a community.
Unusual timing, maybe, but 2020 was the year that Hurrah.agency grew into Hurrah.group - the first communications group dedicated to esports and gaming - by adding two new companies to our roster, a production studio, Hurrah.studio and a media buying agency, you guessed it...Hurrah.media.
In esports and gaming authenticity is everything and the community has always been our first client. For brands, that means they can trust us to never deliver work that we, as esports fans, wouldn't want to see. For the fans it means that we bring them campaigns that meet their expectations and upgrade their experience.
Remaining independent has also played a huge part in our ability to stay true to the fans and our clients, allowing us to freely choose the most relevant partners to work with regarding our clients goals and DNA. So far, it's working, and we are lucky enough to still work with clients who have been with us since day one.
Throughout the past five years, we've created engaging content in alignment with both our client's DNA and the fans expectations.
As a fan myself, I've always strongly believed that both sides could benefit from working together.
For brands, esports and gaming has many benefits. Apart from the opportunity to generate new revenue streams, it's also a fantastic opportunity to approach new audiences. Gamers and esports fans are always keen to show recognition and loyalty to brands that upgrade their experience and brand involvement is enormous in the space. Without big brand investment publishers wouldn't be able to put on the incredible shows that the fans love each year, team cash prizes wouldn't be as valuable and teams wouldn't benefit from the fantastic opportunities that go hand in hand with a big brand sponsorship.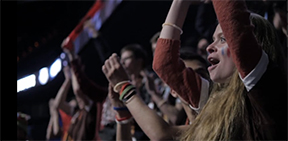 Our work with LION Cereals; Wildest fans and The Roar Map, are amongst some of my proudest campaigns for the fans that we've been a part of. The campaign
"Wildest Fans"
is a good example of a win-win partnership between a non-endemic brand and esports. French esports fans are known to be some of the most enthusiastic and loudest fans in the world. However, major competitions used to take place overseas. If French fans wanted to support their team during a big event, they had to go to another country. To relieve this frustration, LION Cereals decided - under our guidance - to select the wildest French supporters and take them to the League of Legends European Finals in Germany. The brand offered the chance for 100 of the loudest French fans to support their favorite teams at one of the biggest esports events of the year, which was something that would have been very complicated for the fans to do otherwise.
With the creation of Hurrah.group our goal is to bring our work to the next level. With the combined skills of 3 entities; agency, studio and media, we are now equipped to provide either one specific solution or an end-to-end strategy that perfectly fits our clients' requirements.
However, with success comes responsibility and I am fully aware that esports and gaming are not perfect. The industry suffers deeply from sexism and misrepresentation and we have made a commitment as a group to try to change this.
Throughout our campaigns we aim to represent the diversity of the community and within the group, we work hard to maintain parity and attract international profiles - even if it does involve a lengthier hiring process!
This commitment has started to pay off; our staff is currently made up of 8 females and 12 males, from over five different countries (meaning our primary language is English although we're based in Paris). Considering that 5 years ago Hurrah was composed of 5 French males and 1 woman, we are proud and are enjoying the huge range of benefits of this important progress.
This is a lifelong commitment at Hurrah.group and we're hiring new profiles at the moment, so we look forward to adding more diversity to the group in the near future.