The Different Shades of Mentorship by Andrew McKechnie
22 May 2023
---
THE DIFFERENT SHADES OF MENTORSHIP
By Andrew McKechnie, Independent Chief Creative Officer | Global Brand Marketer |
In-House Agency Builder | Iconic Storyteller | DEI Advocate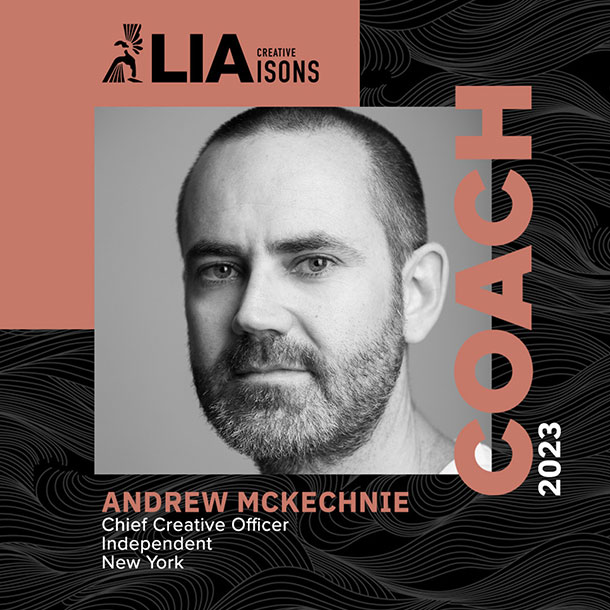 As I reflect on an immense few years leading a large organization and encountering hundreds of people in various moments along the way, I'm reminded of the power of mentorship and how it reveals itself in different ways.

I've always maintained a healthy paranoia about the impact of my words, actions, and influence on the people that I've had the privilege to lead or work alongside. When I first started my career, I had a heightened sense of curiosity and tried to learn all that I could from those around me. I was always fascinated by the different leadership styles that I encountered and what made people successful in leading teams.

What I learned early on is that not everyone was cut out to be a leader or really wanted the responsibility to manage people and the energy that it takes to do it well, especially in an industry like advertising during an era where those who simply won the most awards were elevated to the top. The industry didn't set people up for long-term success. It became very clear to me that if I wasn't careful, I'd pick up a lot of bad habits from people whose interests were primarily their own success. So, I made a conscious effort to scrub all the habits, rituals, and actions that I don't want to take with me as I develop my own leadership style.

While I've tried to glean the best from everyone, I also made specific observations of what I wouldn't do as I progressed in my career. Essentially, I tried to achieve the balance of developing teams who could deliver exceptional creative quality and pedigree while also being compassionate and respectful of what it takes to get there throughout the creative process (spoiler alert: it takes a lot of really, really hard work to achieve greatness).

This began my journey of being a contrasting figure in highly competitive and challenging environments, to be an opposing or complementary force that can adapt to the culture but also lead it to new places in ways that enable people to develop their own capabilities and leadership skills.

In the last few years, I became acutely aware that while my impact within large organizations has grown, I haven't been able to give everyone the time they need, or the time I need to learn from others. I used to be able to give an hour pretty easily to someone, but it got whittled down to minutes—a lightning-fast call, stopping by someone's desk, or a quick exchange in a meeting that just finished. 3, 5, 13 minutes—whatever I could carve out in an already nutty 12-14-hour day (separate post on how this does not make you an effective leader). I began to think that soon all I'd be able to give is seconds, and then my last breath. That's why I'm now finding ways to help others since I have this beautiful space in my life where I can gift time and give back some of the experience that everyone has indirectly given me.

I've always believed that my early and continued success have been through a few individuals who have taken pause to share their experience or time with me. These people, knowingly or not, have a significant impact on a person's perspective and ability to navigate the environment with confidence and success. Oftentimes, their actions or words are recited years later as examples of great leadership or profound advice. But giving people the time, patience, and helping them to unpack multiple scenarios and perspectives in a moment of their life is truly one of the greatest gifts you can give someone.

It's also true that some of my more foundational lessons have formed in the chaos of adverse environments. Toxic cultures, abrasive personalities, and disheartening experiences are their own bizarre form of mentorship. These are just part of the journey we all take and encounter in varying degrees. It just depends on how you filter the outcome and stay true to who you are. Being a leader requires a lot of change, but you don't need to lose yourself in an artificial shell of a leader that many organizations try to shape you into to operate within their culture.

And while everyone likes to look up to the leaders around them for advice, I highly recommend staying focused on those around you too. The qualities and experiences that I value the most have taken shape through my peers or team members. Mentorship isn't just advice from a boss. When you're in the dark depths of a project, riding the wave of misery and jubilation, everyone is at both their most vulnerable and their best. It's in these moments that you lean on each other for energy, support, and natural guidance. It's here that mentorship is working at its best, teaching you lessons on teamwork, tenacity, failure, and success.

Here are a few of the themes that I try to uphold as I think about my presence in people's lives. While I may not have always been successful in staying true to these in all my interactions with the thousands of people I have met along the way, I do hope the sum of my experiences with people holds true.

• Foster culture, not politics.
• Build people up, don't take them down.
• Jobs come and go; relationships stand the test of time.
• Empathy does not make you a weak leader.
• Be wary of insecure people. They will not support your growth.
• Be a calm and measured voice in the room; not everything is a fire.
• Don't weaponize people's names to gain superficial power.
• Be authentic and consistent regardless of who you meet.