London International Awards Grand LIA Spotlight Continues and Jury President Interviews
29 October 2023
---
LONDON INTERNATIONAL AWARDS
GRAND LIA SPOTLIGHT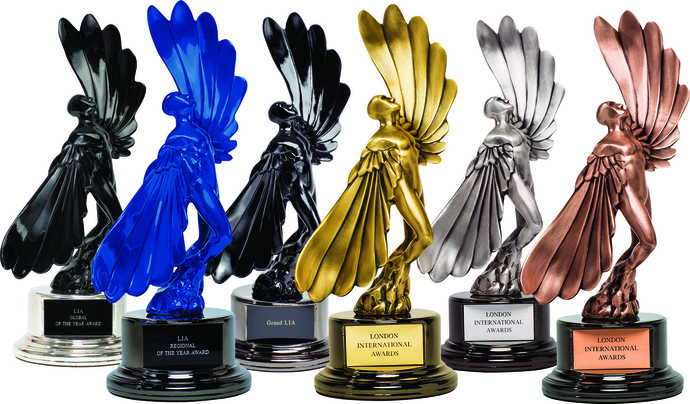 LIA continues to celebrate your outstanding work.
We extend our heartiest congratulations to all Grand LIA Winners!
INTEGRATION:
AIRBAG, MELBOURNE


HONEST EGGS CO. "FITCHIX"
LIA Jury President Chaka Sobhani, comments, "Our resounding Grand LIA winner is so simple, so brilliant, absolutely breathtaking."
NON-TRADITIONAL:
WUNDERMAN THOMPSON BENELUX


VOW "THE MAMMOTH MEATBALL"
LIA Jury President, Susan Credle, Global Chair/Global Chief Creative Officer, FCB Worldwide commented, "At first, we were almost embarrassed to admit we love 'The Mammoth Meatball' because it's so weird and crazy. But I think the industry needs to be reminded that we can have fun while doing really good things and crafting great messaging in a non-traditional way."
NON-TRADITIONAL -
PUBLIC SERVICE/CHARITY/NGO:
PUBLICIS CONSEIL, PARIS


SOLAR IMPULSE "PRÊT À VOTER"
LIA Jury President, Susan Credle commented, "The Grand LIA in Public Service/Charity/NGO for Solar Impulse "Prêt à voter", was just a brilliant idea. It was about a book of laws that were written by lawyers, so that all the government had to do was pull a piece paper out and pass a law. The jury felt that this was actionable. It took the pain point away and went straight to not an awareness but an action."
ONLINE FILM: DDB CHICAGO
SKITTLES "APOLOGIZE THE RAINBOW"
LIA Jury President, Daniel Fisher, Global Executive Creative Director Unilever and Special Projects, Ogilvy remarks, "One thing that particularly stood out in our category was a return of humour in a big way. You can tell that a lot of thought was put into the Grand LIA for Online Film, from the set design, to the performance and even the little, quirky details. All to support a very funny premise."
PACKAGE DESIGN:
GREY COLOMBIA, BOGOTA
MAKRO "LIFE EXTENDING STICKERS"
LIA Jury President, Marjorieth Sanmartin comments,"In Package Design, we sought something crafted or applied in a way that has never been done before.

From the moment we laid eyes on the Grand-LIA winning work in Package Design, we loved it. It was just a sticker. Yet, in a very simple and sustainable way, it gave new life to fruits and vegetables that might have otherwise gone to the landfill.

This sticker was created by a supermarket. It had different colors to be placed on the fruit and depending on the color, the sticker will give you tips on how to use the fruit. It is genius and it is just a sticker!
PHARMA & MEDICAL:
GREY NEW YORK
AMERICAN SOCIETY OF CLINICAL ONCOLOGY (ASCO) "MOST BEAUTIFUL SOUND"
LIA Jury President, Rachel McCready, CCO, Evoke states, "The Grand LIA took something that is invisible and gave it the ability to be perceived. It wasn't just innovative; it actually reached the hearts, minds and ears. It demonstrated the healing and motivational power of communication."
POSTER: MRM, SANTIAGO


NOT MILK "WE DIDNT WRITE THIS CAMPAIGN"
Jury President, Guan Hin Tay commented, "It was nearly a situation where the Poster category would not have a Grand LIA winner. The jury was split down the middle. Half of them were in favour of Not Milk's "We Didn't Write This Campaign," while the other half leaned towards Heinz Ketchup's "Kitchen", "QSR" and "Dinner". It was a tight vote, so I asked everyone to think it over again. Heinz is a big name, and they have always maintained a high standard with their work. This year was no different.

On the other hand, NotCo, the brand behind Not Milk, is a newcomer. Yet, they managed to carve out a spot in the crowded plant-based milk market. They did something quite clever. They faced legal challenges and turned them around to their advantage. They used the exact words from the lawsuits against them in their advertising. It's amusing to see that the campaign credits mention C&B Lawyers. I wanted to know if these lawyers would also be acknowledged with statues for their clever wording."
PRINT: DM9, SÃO PAULO


LEICA M1 "THE ONE EXHIBITION"
Guan Hin Tay commented, "The spotlight was undeniably on Leica's "The One Exhibition". A narrative told through the lens of a Leica M11. The simplicity and profound impact of transforming a single photograph into a gallery of details captured our imagination. It was not just about the aesthetics, but each image fragment's narrative, unfolding a larger story yet keeping the core idea intact. The accompanying photo book was an ode to the power of 60 megapixels and the boundless creative horizons that print could still venture into."
PRINT - PUBLIC SERVICE/CHARITY/NGO:
ALMA DDB, MIAMI
CHANGE THE REF CAMPAIGN
Guan Hin Tay commented, "This Grand LIA for "Change the Ref" campaign was unsettling, yet compelling. The stark imagery of a bullet wound marking a vote on a ballot sheet was a powerful commentary on the repercussions of political choices concerning gun control. It was more than print; it was a mirror held up to society, urging contemplation and action."
PRODUCTION &
POST-PRODUCTION:
HAVAS LONDON
VANISH X AMBITIOUS ABOUT AUTISIM "ME, MY AUTISM & I"
Jury President, Vera Maria Portz, Partner/MD/EP of Tempomedia Filmproduction states, "Everyone in the jury voted for this film, because it was emotionally so strong, but at the same time it was crafted so well that you could just feel how important it is to talk about a disease about social pressure, family pressure. So, we voted for "Me, My Autism and I" to receive a Grand LIA.
TRANSFORMATIVE BUSINESS IMPACT: DRAFTLINE, SHANGHAI


CORONA "CORONA EXTRA LIME"
Jury President, Adam Ferrier, Chief Thinker of Thinkerbell shares, "Corona's campaign in China didn't just sell more beer; it helped to stimulate an entire agricultural business."
TV/CINEMA: BETC PARIS


CANAL+ "PAPA"
Jury President, Daniel Fisher remarks, "The Grand LIA winner for TV/Cinema was laugh-out-loud funny. With help from the casting, the dialogue and the comic timing, it had the whole room in stitches. As soon as we saw it, we knew it was a contender for the Grand Prize. We gave it to a spot for Canal+ called "Papa. "
USE OF SOCIAL MEDIA & INFLUENCERS:
OGILVY UK, LONDON
DOVE "THE COST OF BEAUTY"
LIA Jury President, Chris Garbutt remarks, "This is a very important piece of work to make the industry realize that we have a huge responsibility with the kind of assets and work we create for these platforms. It was a brilliant campaign that reflected the problem."