Mark Tutssel – Former Executive Chairman of Leo Burnett Worldwide
One of the most awarded creative directors in the industry, Mark's work has garnered every major creative accolade. LIA spoke with the recently retired 'Legend of Advertising' to talk about his love of advertising and his claim that he has "never been to work" in his life.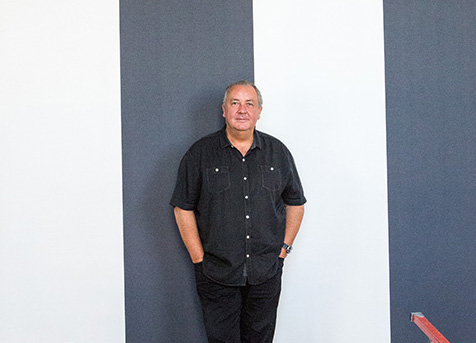 You recently retired from Leo Burnett after 34 years. In one of your statements, you have said that one thing that differentiates Leo Burnett is its incredibly unique "culture". What is that "culture" and how did you manage to keep it alive in the 96 offices in 85 countries all these years?
Culture is simply a shared way of doing something with a passion. We believe in the power of a strong culture that puts people and creativity at the heart of everything we do. Our guiding principles are simple: be open, be generous, be curious.
We pride ourselves on a genuinely friendly and informal style where everyone's invited. The happiest people and most exciting places are also the most creative in the industry, and Leo Burnett has both of these, alongside a real passion for great ideas.
It's not only the work that defines a creative agency but also the people.
We are famous for our culture. People often tell us how warm and friendly Burnetters are. But it's our ability to combine that "down-to-earthiness' with incredible ambition, a deep sense of collaboration, genuine respect for each other, constructive risk-taking, and an openness to continuously change and innovate, that I believe sets us apart.
We are a creative solutions company.
We believe creativity is the most powerful asset in business today. And it's through a creative lens that we solve everything. To us, creativity is a deep understanding of human behaviour that we translate into transformative solutions for our clients. It's what we bring to every business problem.
We call it HumanKindTM thinking. It's not about customers or consumers, we start with people and their behaviour. And we use our intelligence, design thinking, digital innovation and human experience capabilities to create behaviour-changing solutions.
To unite and ignite the global network I introduced a new operating system - "Creativity Without Borders". A fluid eco-system where talent, regardless of geography, has the ability to work on major brands and the most exciting briefs. Modern creativity is born out of different global perspectives and approaches. This operating system allowed us to unite speed, culture and our global network to create interesting and bold ideas that feed society's need for engaging and rewarding content. The borderless approach has set a new benchmark for cultural collaboration, and has opened up possibilities for the way we operate as an organization and ultimately, deliver for our clients. Examples of its success include – P&G Always 'Like A Girl', Samsung "Do What You Can't' and Coca-Cola 'Small World Machines'.
We live in a world where the intersection of technology, data and creativity continues to expand, while the world continues to shrink. Hence my charge to the Leo Burnett network was to come together as one, to operate as one, and to connect to the larger world. We aim to be the best in the world - bar none, which means that we find the right people to come together and create globally relevant ideas that transform our clients' businesses for the better.
You have won a whole raft of the top international awards including 4 Grand LIAs. And you once described awards as "the best retention tool we will ever have". Can you please elaborate on that?
The reason we have awards is to show people how creativity and effectiveness can create great things. Awards are a barometer of the health of our industry. A celebration of brave new ideas. Awards inspire and motivate people to try harder.
They are also a magnet for talent, and the world's best shop window for new business. And of course, the best retention tool we'll ever have. But we have to celebrate creative effectiveness. We are not in the creative business, but in the 'Business of Creativity". We have to prove the relationship between high creativity, business, social and human impact.
You have always said that you don't want to be a 'Manager', you are a 'Player Coach'. Can you please share which is your own personal favourite Leo Burnett campaign of all time and why?
I love the beautiful game and I often use football as an analogy. Leo Burnett is a maker culture. We create. It's a team game. Everyone plays for the club. You can feel the brand, energy, ambition, culture – all the things we tap into each and every day.
I didn't get into this business to be a manager, the business got into me.

I have always believed in team. But it's much more than radical collaboration, it's about "curation". Blending together the rich, diverse, specialist skill sets you need to create brave, breakthrough work. We put a laser sharp focus on the infinite power of imagination and its ability to change the way people think, feel and ultimately behave.
Managing a global team requires a diverse array of talents and a substantial knowledge of the game. The role is to instill values, quality standards and respect for creativity in a broader sense. It is leadership. I lead by example, but I do this by being a player coach. I have always actively been involved in the creation of the product.
I love to work with the remarkable global talent we have. My role is to bring out the best in one another and the team itself. To instill belief, set standards and transmit confidence. Coaching is taking a player where they can't take themselves.
Creativity is core to us – it is in our DNA. We have a vital and unique culture at Leo Burnett and, when we are at our best, our work reflects our HumanKind beliefs and thinking, infusing true human value into the world.
Over the decades we have produced a raft of world-class work. I don't have favourites, I admire and respect brands that use creativity as a tool to create human value and move people to act.
What I am most proud of is that our finest work has originated from all four corners of the world. (We have more global offices contributing to our creative reputation than any other network). Big original brand ideas for P&G Always, Samsung, McDonald's, Altoids, Mercedes-Benz, United Airlines, Coca-Cola, Kraft Heinz, Canon, Kellogg's, Disney, Petronos, Diageo, Cadbury, John West, Allstate, WWF Earth Hour, Pernod Ricard, Ariston, Nintendo and Fiat.
You love advertising and in your own words, you have "never been to work" in your life. So what is the next chapter of your life?
I have been in this business for 40 years. I feel so very privileged and fortunate. It's been an incredible journey. But this is the right moment for me to turn the page to the next chapter of my life. I am excited about the future. Watch this space.
Being Welsh, music is in your DNA. Like you, we believe that you can learn a lot about people from the songs they love. Please tell us what is your favourite song/s of all time?
Geoffrey Latham once said that "music is the vernacular of the human soul'. I've always thought that was a fantastic quote. Music has the ability to touch you, to move you, and deeply connect with emotions, feelings and memories.
Music is in our DNA. Think about it: our first introduction to sound is in our mother's womb. Sound is the first connection people will have with humanity, with each other.
Music has incredible power. A screen occupies that space, X by Y. But music fills the room. When you watch content, you're watching that space, but actually you're absorbing the entire message of a brand, of which music can play a powerful part … Music has the ability to change feeling. Because it is feeling.
Music is the universal language of Humankind. It doesn't speak in words, it speaks in emotions.
I grew up in the 60's, so my taste in music was heavily influenced by The Beatles, The Rolling Stones, The Who, Led Zeppelin and Elvis Presley. I love all genres of music.
But if you listened to a soundtrack to my life you would discover my love of soul music, particularly in the 70's. Soul music is all about punch-you-in-the gut emotion. I'm a massive fan of Al Green, Aretha Franklin, The Isley Brothers and Marvin Gaye. One of my favourite tracks would be "Let's Stay Together". These days I love Coldplay. One song that viscerally connects with me is "Yellow". Interestingly the band came up with the line "Look at the stars, look how they shine for you" after looking up at the clear night sky while recording in Wales.
LIA Awards 2019 – The best in the world – bar none.