Simona is an Executive Creative Director at MRM//McCann, with 13 years of passionate creative output in agencies big and small, in 3 different countries: Romania, Hungary and Czech Republic. Her expertise ranges from complex digitally driven campaigns for regional and global clients in both B2C and B2B segments, to insightful stories and ideas that resonate with the local market.
Her work has been recognized in many international and local festivals. Over the years she has been a part of numerous international juries, has been a promoter of female talent in the creative industry, has organized events and has held multiple talks on the topic of diversity & inclusion.
A copywriter at heart, she's passionate about writing in every shape and form, that's why in 2021 she will be publishing her first children's book.
Creative LIAisons 2018
If you were to make a movie about my time at the 2018 Creative LIAisons, you definitely could. It would be a lighthearted coming of age story about a young Romanian creative discovering the ins and outs of mind-blowing Las Vegas, a story of a rapidly found friendship between said Romanian and two talented funny ladies from completely different parts of the world (miss you, girls!) and, of course, a story of enlightenment where our main character gets to meet and learn from so many famous industry faces she admires, that she invariably becomes a better creative by the end.
You would find our creative receiving one-to-one advice from Susan Credle on how to manage stressful situations as a manager (Ok I'll share it with you: it's all in your head, don't worry about it). You would also see her frantically typing away every word Matt MacDonald used in his keynote on how to deliver fantastic presentations. A speech which she later shamelessly adapted into one of her own and which she now holds for junior creatives sometimes. You would also find her crying like there's no tomorrow, blown away by Lara Logan's life story, someone this Romanian would have never had a chance to meet in the flesh if it were not for this program.
Yes, this story would also include losing at blackjack, staying awake for the entire last night of the trip and going straight to the airport at 6AM, eating 3$ tacos on the side of the road at lunch and 200$ sushi in a fancy casino restaurant at dinner, taking the elevator to the highest floor in the Bellagio even though she was not a guest there, just to have a better view of the fountains, drinking margarita out of a bucket while casually strolling on the Vegas strip. But what would a trip to Vegas be without a few things that should stay in Vegas?
While the credits to this Oscar-worthy picture roll, you can watch photos of the real people that inspired the story and think: "oh, they look much worse than the actors they picked for the roles".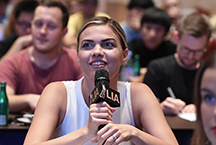 The starry-eyed leading character during a Q&A session.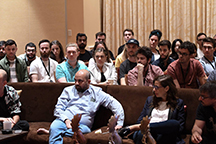 Lurking behind the jurors trying not to jump in the conversation with her many opinions.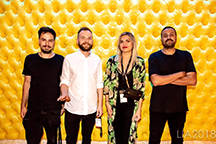 Remember when we could go to parties like this? Oh, the life!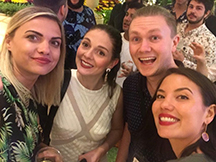 How to become best friends in 3 days – Vegas edition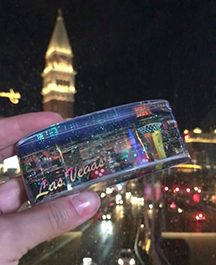 That's a wrap!
So without further ado, after reading this I'm sure you see why this story must end the way it does. With a simple, heartfelt: "Thank you, LIA!"